Insulated Sandwich Panels
Rockwool Panel in Hyderabad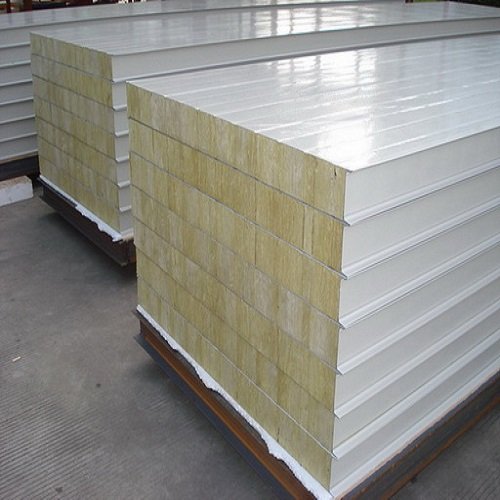 Rockwool panels are the most spectacular phenomenon of a volcanic eruption. These panels are formed when molten lava is thrown and converted into fibers. Rockwool panel insulation is a rock-based mineral fiber insulation composed of basalt rock and recycled slag.
The Rockwool panel wall and roof is a flat surface that has better strength. As you know these panels have exceptional thermal properties.
These panels have fire-resistant properties. Rockwool panels are 90% stone wool and have melting points above 1000 degrees C. This produces non-combustible panels and there is no contribution to the fire load within the organization or buildings. Using Rockwool insulating panels improves fire safety.
Wall width of 950mm and a width-roof of 1000mm.
Available in 50mm to 120mm core thickness.
K-value in (W/m2 K) 0.72 , 0.61 , 0.46 , 0.37 , 0.28.
R-value of (Btu / hr / ft2 / F) 8, 10 , 13 , 16 , 20.
Rockwool panel has a density of 100kg/m3.
Thermal conductivity at 10°C
Mean temperature (W / m3 K) – 0.04
Compressive strength of 10% deformation (Kg / cm2) – 0.50985.
Water absorption level is less than 1%
The melting point is greater than 1000°C.