Insulated Sandwich Panels
Rockwool Sandwich Panel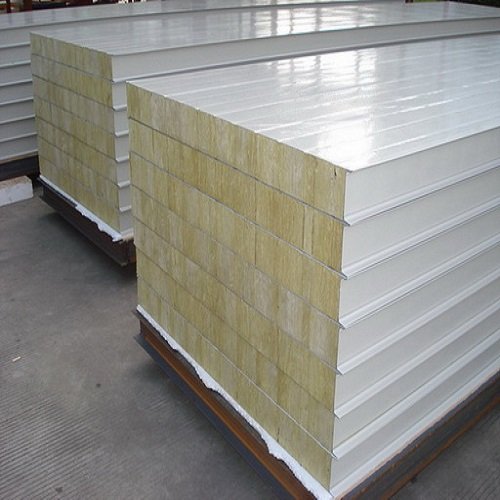 Rockwool sandwich panels are referred to as a type of thermal insulation made from rocks and minerals. It is also called mineral wool. Rockwool sandwich panels are used to enhance the acoustic performance of the system in which the material is installed in both new and existing buildings.
This fibrous material is formed by spinning or drawing molten minerals or any rock material. These panels have a metal sheet covering on either side with Rockwool filling in between. The panels are highly preferred for their thermal conductivity, low combustibility, high mechanical resistance, sound absorption, and fire prevention.
Rockwool panels are installed in walls, floors, ceilings, attics, and crawl spaces. It offers protection from cold, heat, the risk of fire, and ambient noise.
| | |
| --- | --- |
| Core Thickness (mm) | 50mm 60mm 80mm 100mm 120mm |
| K Value (W / m2 K) | 0.72 , 0.61 , 0.46 , 0.37 , 0.28 |
| R Value (Btu / hr / ft2 / F) | 8 , 10 , 13 , 16 , 20 |
| Density (kg / m3) | 100kg / m3 Thermal conductivity at 10 degrees celsius and temperature – 0.04 (W / m3K) Compressive strength at 10% deformation – 0.50985 (Kg / cm2) |
| Volume in percentage water absorption | Less than 1% |
| Sound reduction in DB | 28 – 30 |
| Melting point | >1000 degrees C |