Insulated Sandwich Panels
Rockwool Panel in Chennai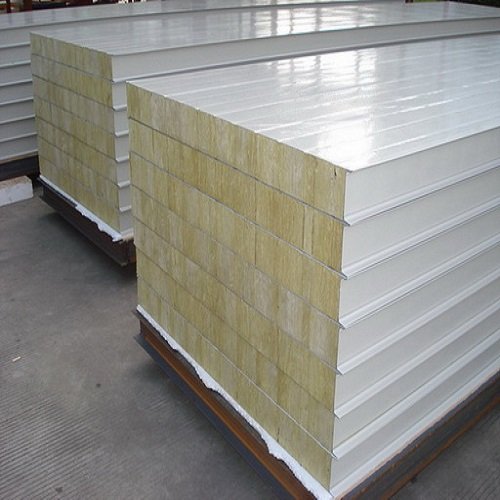 To give your buildings a fireproof and sound-resistant environment we produced classy Rockwool panels with high-tech and innovative technologies.
It is quite cool that Rockwool can be produced from a variety of materials types. It is usually produced from the same mineral that exists in lava substances during volcanic eruptions.
While making these Rockwool Panels, we reheated lava rock to its liquefied or you can say molten state and then rotated until it has taken the shape of thin long fibers.
You can see this similar process at cotton candy shops but Rockwool requires high temperatures because it has a higher melting point than sugar.
The width of the wall of the Rockwool panel is 950mm and the roof is 1000mm.
The core thickness of these panels is 50mm to 120mm.
It has a K Value ( W /m2 K ) of 0.72 , 0.61 , 0.46 , 0.37 , 0.28.
The R value ( Btu / hr / ft2 / F ) 8 , 10 , 13 , 16 , 20.
The total density of the Rockwool panel is 100kg/m3.
Also, the thermal conductivity at 10 degrees Celsius means 0.04 ( W /m3K ).
The compressive strength of the Rockwool panel at 10% deformation is 0.50985 ( Kg / cm2 ).