GMP Clean Room Doors Manufacturers - Faridabad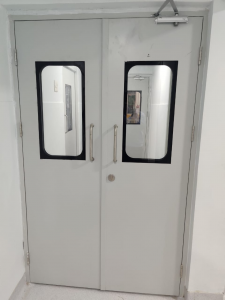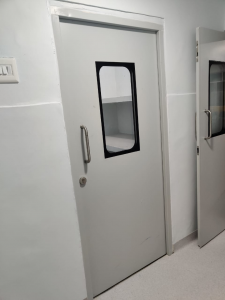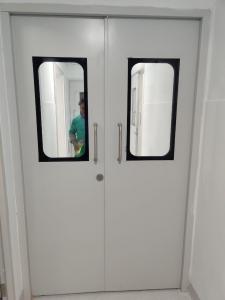 The clean room door is different from an ordinary home or office door. Clean room doors have become a major choice in the pharmaceutical and medical, and food manufacturing industries because they require high-quality clean room doors for a complex environment.
At
Cactus Profiles Pvt Ltd
, we serve our services as a top
GMP clean room doors manufacturers in Faridabad
. Generally, GMP is used for pharmaceutical manufacturing as it requires a clean room or some clean areas to set up. A high-performance clean room door is the first step to ensuring a safe and secure environment.
Commonly GMP clean room doors are used for:
Food storage
Pharmaceutical operations
Medical facilities and perseverance
Apart from this, home doors perform poorly in terms of resistance to VHP and pharmaceutical disinfection, and most of the big pharmaceutical and medical companies, as well as food perseverance companies, have begun replacing existing normal doors with clean room doors. Post the COVID-19 pandemic situation, these doors have become quite important.
Why Cactus Profiles Pvt Ltd?
As we know, the GMP clean room door is very susceptible to damage during construction and opening & closing and it needs proper maintenance to ensure that it does not affect the performance. We are here at Faridabad, just a call away from our clients. We help you with proper maintenance and working patterns of the door.
Cactus Profiles Pvt ltd is a top rated GMP Clean Room Doors Manufacturer in Faridabad with expertise to design clean room doors according to your specific needs. We take into consideration all the clean room door standards and regulations.
To create these GMP clean room doors, the biggest challenges in designing for different sectors like- pharmaceutical companies and food processing clean room doors that are robust, lightweight, and easy to clean. These factors must be considered while creating doors.
But in clean room doors, one of the most important considerations is their weight. The core material that is used to build is a vital part of the overall performance of the clean room door and the material used to create these doors are paper honeycomb and aluminum honeycomb.
Now you are thinking what is the reason to use these materials and how beneficial? So here's your answer!
The advantage of using these core materials is, it makes the clean room door lightweight and gives a large bending capacity. The most critical part of a clean room door is sealing performance and using these materials makes the door more uniform and strong.
If you are looking for GMP Clean Room Doors Manufacturers in Faridabad, your search ends at Cactus Profiles Pvt Ltd.
Connect with our experts today for your clean room door requirements.