GMP Clean Room Doors Manufacturers - Delhi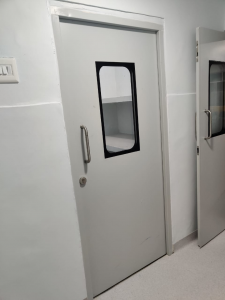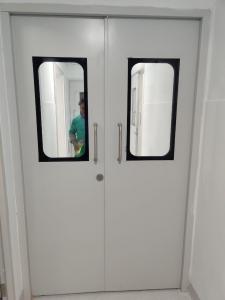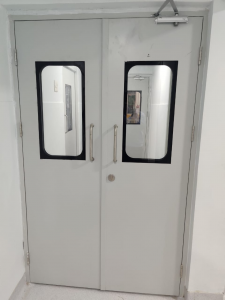 Cactus Profiles Pvt. Ltd is one of the leading and reputed GMP Clean room manufacturers in Delhi engaged in supplying high-quality GMP Clean room Doors to industries and manufacturers.
The GMP compatible door types of Clean room series are made of stainless steel and tested from various guidelines. We use the latest technology to manufacture and produce these Clean room doors.
The basic question that first triggers our mind is what are these GMP Clean room doors and why they are so useful for your organization.
About GMP Clean room Doors!
GMP Clean room doors are designed to prevent everything from dust to airborne organisms, and exhaled particles, as well as it, keep away from whatever product is being handled inside it. The primary aim is often in the hazardous biological departments, any nuclear work (atomic research), in pharmaceutics manufacturers, and Virology. So, it also helps to keep materials from escaping from it.
Generally, the purpose of GMP Clean room doors is to prevent and block the outside air and dust particles. This ensures that the GMP Clean room doors can maintain parameters like air-tight quality, control humidity & temperature, and cleanliness & disinfecting and to maintain very low concentrations of airborne particulate matter.
Clean room doors are mostly used for well-isolated, well-controlled from contamination, and should be actively cleansed. These doors are usually needed for scientific research and in those industries that produce for all nano-scale processes like semiconductor processes.
The basic feature of Clean room doors are:
It never allows the outlet of contaminated products
GMP Clean room doors are radiology protected
It has a smooth surface
Soundproof quality and robust construction.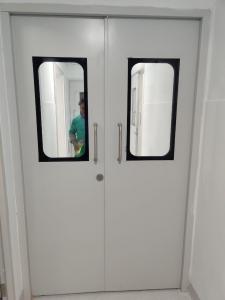 Get GMP Clean room Doors
We at Cactus Profiles Pvt. Ltd are a top brand when it comes to the manufacturing of GMP Clean room doors in Delhi. We recommend you check our catalogs to find the right GMP Clean room door to meet your requirements.
We work in every sector where the GMP Clean room doors are required. Our GMP Clean room doors are commonly used in laboratories, hospitals, food production factories, electronics factories, and more.
We will happily help you. For more information contact us!