Insulated Sandwich Panels
Glasswool Panel in Odisha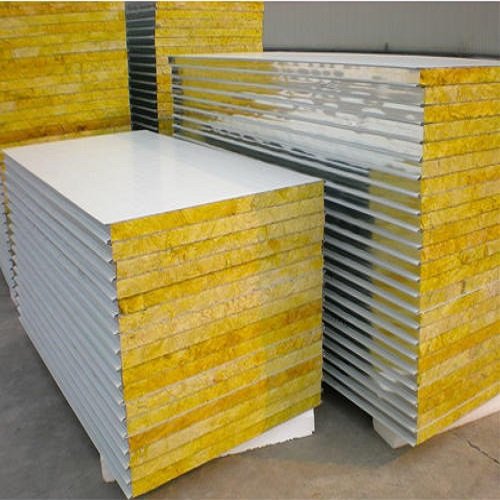 The glass wool panel makes significant participation in ensuring efficient thermal insulation, such as consuming energy, noise pollution, protecting personnel from hot surfaces, as well as reducing fluctuations of temperature in buildings.
Glass wool panels create a safe work environment, in-hospital improving personal space and efficiency. To install these panels, the insulation process involves the creation and trapping of many small pockets of air between the glass wool.
Glass wood panels have a low density that varies compression and binder content, the panels consist of flexible fibers that trap air inside which result in higher thermal insulation. It is used to construct buildings or organizations surfaces.
| | |
| --- | --- |
| Product Name | Glass Wool Sandwich Panels for walls and roofs |
| Advantage | Fireproofed Light-weighted Waterproofed Fire resistant |
| Core Thickness | 50mm to 120mm |
| K value (W / m² °K) | 0.72 ꘡ 0.61 ꘡ 0.46 ꘡  0.37 ꘡  0.28 |
| R value (Btu / hr / ft² / ℉ ) | 8 ꘡ 10 ꘡ 13 ꘡ 16 ꘡ 20 |
| Width Wall | 950mm |
| Width Roof | 1000mm |
| Fascia Options | PPGS / PPGL |
| Density | 100 kg/m³ |
| Thermal conductivity at 10 degree C | 0.04 w / m³k |
| Compressive strength at 10 % | 0.50985 kg per cm sq. |
| Bending strength | 0.7647 kg per cm sq |
| Melting point | Greater than 1000 degrees C |
| Water Absorption | Less than 1% |
| Sound reduction (db) | 28 to 30 |
| Fire class | Non-combustible |