Fire Rated Doors Manufacturers - Uttranchal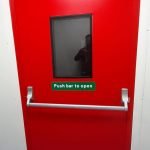 What are fire rated doors? Fire rated doors are constructed to prevent the spreading of fire and smoke. Fire rated doors are installed in commercial buildings and industries. The doors are a passive fire measure that helps to control the fire, smoke, and fumes from penetrating beyond the doors.
These fire rated doors are normally used in shafts and staircase exits to help people safely evacuate from the building in case of any fire emergency scenario.
If you want to protect your employees from any mishappening then here is the best choice for your staircases and rooms. We are the manufacturers of fire rated doors in Uttaranchal.
Fire rated doors are reliable and critically important for both commercial and residential infrastructure. So, people required powerful fire protection in industries, schools, and hospitals.
These doors are manufactured using fire-resistant materials like timber, steel, glass, gypsum, or vermiculite boards. With these substances, the door can be stable and withstand fires for a few hours giving emergency services enough time to put out the fire and prevent fires.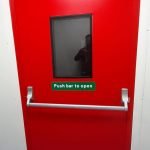 Get your Fire rated doors
Fire rated doors are mostly required in every building. When it comes to fire safety, these fire rated doors and frames in your building will ensure reduced smoke inhalation as well as draft minimization of fire.
Generally, the fire rated doors and frames have a multitude of code requirements regarding closers, hinges, locks, gaps, and other subtleties that contribute to overall safety. This door is important for its construction and manufacturing for fire safety and heat transfer.
Fire rated doors give fire-resistance properties although it is a combination of glass, gypsum, steel, timber, and aluminum. With fire-resistant sealant, these doors are designed to be closed and there should be no gap between the wall and the door.
The experts at Cactus Profiles, totally understand the importance of having safe, robust fire exit doors that allows everyone to escape or exit from the premises quickly.
Our technicians are fully qualified and can install an array of fire rated doors. We are offering service, advising you the right door for your building and manufacturing according to your needs and installing the door. For more information get in touch with Cactus Profiles.