Fire Rated Doors Manufacturers - Haryana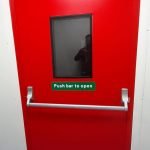 Passive fire protection in your building
Fire rated doors enable protection against fire and help in safe and quick evacuation of the people during any fire related incident. Fire rated doors not only minimize the spread of fire but also help in reducing the damage of property done by fire. Cactus Profiles Pvt Ltd is the best fire rated door manufacturers in Haryana providing fire rated doors in different styles that will protect your property from fire hazards. We are the leading suppliers of fire rated doors in Haryana.
We supply a wide range of other doors to meet the needs of our clients and their property. We construct all products with the latest fire rated doors specifications which ensures a high degree of protection for all buildings. The primary reason for fire rated doors being installed in buildings is to save lives and property in the event of a fire.
Our products are designed to the highest standards and are rigorously tested by our experts. We also supply products that meet specifications for fire rated doors from manufacturers.
Do you need fire rated doors?
Specifications of the highest type and certified doors is what we specialized in. Cactus Profiles is the leading provider of fire rated doors, functional sliding doors, fire rated exterior doors, acoustic doors, and more. All doors we provide are manufactured by technical experts and their teams.
If you are looking for a fire rated doors manufacturer in Haryana for your building contact us.