Fire Rated Doors Manufacturers - Gurgaon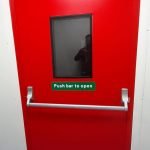 Cactus Profiles Pvt Ltd is the top leading manufacturing company. With our perfection and expertise, we become one of the most valuable Fire rated door manufacturers in Gurgaon.
What are the Fire rated doors?
The fire rated doors are the doors that you saw on the fire exit and staircase. Mostly these doors are used in chemical factories, hospitals, in big industries to control any fire related mishappening. Fire rated doors are constructed of the material that works to stop and spread flames, smoke, and in certain applications, radiant and conductive heat transfer.
Some common materials used to build fire rated doors are wood, steel, fiberglass, and fire rated glass. These materials combine to manufacture fire-resistant doors for your building.
These fire rated doors assemblies and include the door, frame, hardware, glazing, and parts. This helps to reduce the fire spread and smoke in a building. Fire rated doors can be used in both commercial and residential buildings.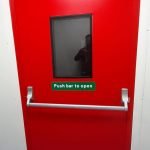 The massive use of fire rated doors
Generally, these fire rated doors are needed in private houses or any other building where fire safety is important to protect the people inside. The fire rated doors are used in theatres, schools, shopping malls, hotels, hospitals, offices, etc.
At Cactus Profiles, we manufacture different types of doors according to your requirements and needs. 
Conclusion
The fire rated doors prevent the fire from spreading and reduce the smoke passage for the particular time limit. We at Cactus profiles always test and certified in accredited laboratories that simulate the conditions of a real fire.
According to manufacturing the door, it is important to check the performance of the doors before delivery and give it fire rated certificate. Your safety is our first priority. So, we also try to double sure with doors.
These fire rated doors save many lives of people during the fire. It has vital safety features. More or less these doors reduce the destructive economic effects of a fire. To know about fire rated doors you can visit our site www.cactusprofiles.com or contact us.