Fire Rated Doors Manufacturers - Delhi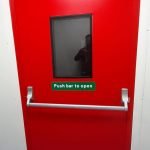 High-quality passive fire protection systems are now required by various fire safety standards and local building codes. They not only prevent the possibility of fire but also prevent its spread.
Fire doors are made from a combination of steel and gypsum, and can therefore be used as passive fire protection to stop fire spreading.  Fire-rated doors are typically used in buildings to block smoke and fire from entering between areas or compartments. These doors are designed to protect property and people from fires.
Fire-rated doors can also be used in commercial, residential, and industrial settings such as hub rooms, equipment, server room or multistory building, malls. AHU room, corridor, lift lobby. Ac plant room, generator, machine room, industrial building, staircase.
Fire-rated doors make a great choice for conference rooms, offices, or libraries that require a fire exit.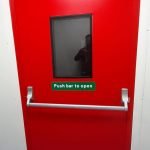 We are a Leading Fire Door Manufacturers in Delhi
Cactus Profiles Pvt. Ltd is rated among the leading fire rated doors manufacturers in Delhi. We are  the most trusted manufacturer and supplier for fire-rated entrance doors, exterior doors, steel fire doors, steel fire doors, wood fire doors, etc.
We have been producing single and dual fire doors as well as related accessories since 2001.
We provide a full line of fire-rated entrances to commercial, residential and industrial buildings.
This includes office buildings, restaurants as well as hotels, banks, shopping centers, airports, stations, etc. These fire doors are also highly sought-after in residential and industrial sectors.
Looking for Fire Door Manufacturers in Delhi?
Cactus Profiles Pvt. Ltd is a leading manufacturer of fireproof doors in Delhi. We offer thousands of options in fire-rated fire doors including fire-rated fire doors with fire withstand abilities up to 120 minutes.
With our highly skilled staff, well-equipped infrastructure, and extensive industry experience, we are one of the most respected manufacturers of high-quality products such as Fire Check Door & Hardware.
Cactus Profiles Pvt. Ltd, India's most trusted fire-rated doors manufacturer, can help you protect yourself from any fire accident.
High-quality fire doors with sturdy materials and custom dimensions are available at affordable prices. Each door and door assembly are designed and manufactured with first-class materials in accordance with industry standards.