Clean Room Doors Manufacturers - Haryana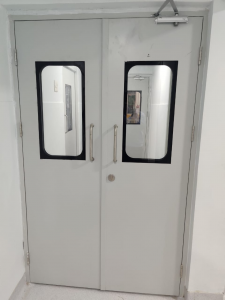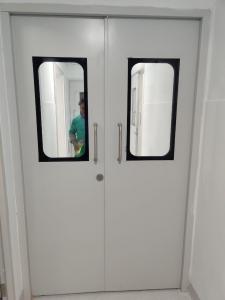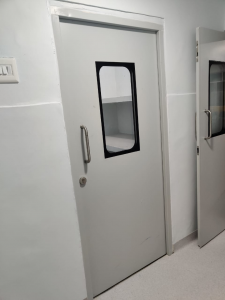 Cactus Profiles Pvt Ltd is one of the reputed cleanroom door manufacturers in Haryana. We produce cleanroom doors with swing out and horizontal sliding doors with manual, automatic, or semi-automatic techniques.
The cleanroom can control the environment where pollutants like dust, airborne microbes, and aerosol particles are filtered. It provides cleanliness on the premises. Most cleanrooms are used to manufacture products such as electronic, pharmaceutical products, and also medical equipment.
Cleanroom door controls the environment where pollutants like dust, air molecules/particles (microbes), and aerosol particles are present. Most of the cleanroom doors are used for manufacturing products that contain electronic, pharmaceutical products, and medical equipment. The GMP cleanroom doors also control variables like temperature, airflow, and high humidity.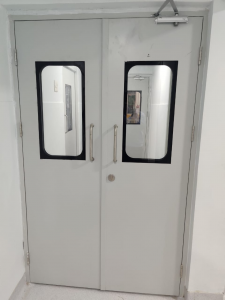 These cleanrooms can be classified into different levels of contamination depending on the number of particles allowed in the air. They are also good to control variables like temperature, airflow, and humidity.
For these cleanrooms, we manufacture doors which is the most important aspect. It is all about timing when the door is open and closed, it will play a critical role in avoiding dust particles, outside temperatures, humidity, etc. We provide doors that are available in Single leaf and Double-leaf doors made with honeycomb paper. These doors are designed to meet the most stringent requirements for cleanrooms and hygienic applications. The cleanroom doors are the new choice for leading pharmaceutical and food companies.
We, as Cleanroom doors suppliers in Haryana, provide high speed and are specifically designed for different purposes.
Work with us!
At Cactus Profiles, we manufacture customized cleanroom doors according to the clients and designed for internal areas where dust is prohibited. Our door structure is made of stainless steel material that makes it strong and durable in nature.
We maintain the requirement of minimum air leakage, confront positive and negative air pressure. According to your requirement, speed adjustment is done by a frequency controller. Specially designed side guides and bottom to provide proper sealing to maintain the room temperature.
We build the doors that have the best sealing performance by adopting foam dispensing technology. Therefore, these doors are equipped with automatic sweeping strips that help the organization to have better air-tight rooms.
Contact us for more information.