Insulated Sandwich Panels
Rockwool Panel in Ladakh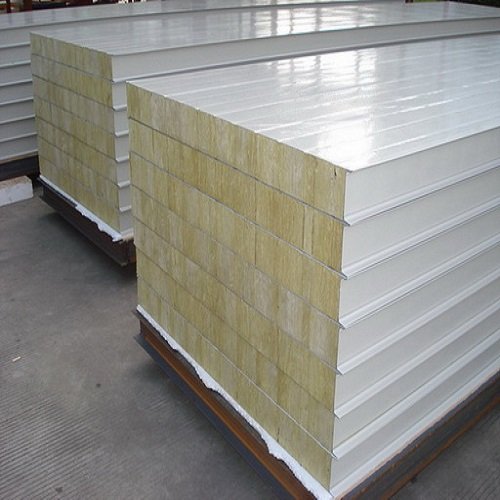 These panels are manufactured by heating certain minerals to their melting point and then spinning the minerals until they solidify in the shape of fine threads. Rockwool is a type of stone wool that is used as an insulator for buildings.
Rockwool is also known as Mineral wool, it is a form of insulation that is made of actual rock. The stones are heated and spun until they become a fiber-like texture. Rockwool insulation is the standard material for every building.
These panels are highly energy-saving as the stone and a recycled blend of the material originates from steel and copper gives the Rockwool great structural integrity and provides excellent insulating capabilities by trapping heat and air within the stone wool. 
The width of the wall of the Rockwool panel is 950mm and the roof is 1000mm.
The core thickness of these panels is 50mm to 120mm.
It has a K Value ( W /m2 K ) of 0.72 , 0.61 , 0.46 , 0.37 , 0.28.
The R value ( Btu / hr / ft2 / F ) 8 , 10 , 13 , 16 , 20.
The total density of the Rockwool panel is 100kg/m3.
Also, the thermal conductivity at 10 degrees Celsius means 0.04 ( W /m3K ).
The compressive strength of the Rockwool panel at 10% deformation is 0.50985 ( Kg / cm2 ).