Insulated Sandwich Panels
Rockwool Panel in Bengaluru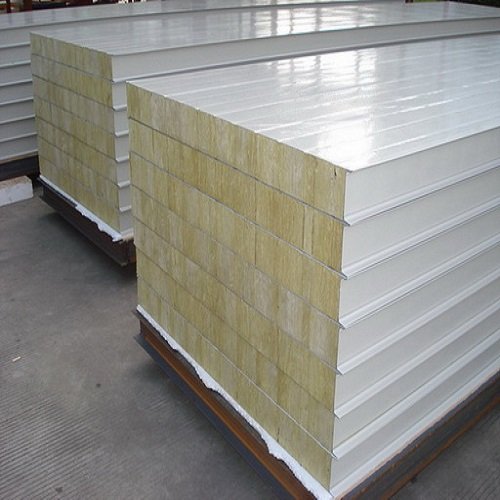 Rockwool panels are made from rock processed into fibers. It is a durable and heat-resistant material that provides powerful protection against heat and fire.
These panels are reliable insulators that hold high R-Value over time. Resisting pests and moisture, the Rockwool panel offers a wide range of benefits for industrial sectors, and now even in residential sectors, people are using these panels for protection.
This panel contains multiple abilities to be a popular modern construction requirement for everyone. It is environmentally friendly, and durable. Safe, heat resistant, non-deteriorating R-Value, pest control, and moisture resistant.
The width of the wall of the Rockwool panel is 950mm and the roof is 1000mm.
The core thickness of these panels is 50mm to 120mm.
It has a K Value ( W /m2 K ) of 0.72 , 0.61 , 0.46 , 0.37 , 0.28.
The R value ( Btu / hr / ft2 / F ) 8 , 10 , 13 , 16 , 20.
The total density of the Rockwool panel is 100kg/m3.
Also, the thermal conductivity at 10 degrees Celsius means 0.04 ( W /m3K ).
The compressive strength of the Rockwool panel at 10% deformation is 0.50985 ( Kg / cm2 ).
The melting point is greater than 1000°C.
The basic thing that matters is the material has good acoustic properties which maintain the soundproofing. Fire safety is the most important factor, therefore Rockwool panels are fire-resistant, so most of the industries choose to fabricate with Rockwool panels.
These panels can maintain the overall temperature in the room. It is durable and long-lasting. These properties make the Rockwool panels reliable and effective insulation for your building.