Glasswool Panels Manufacturers - Chandigarh
Glass Wool Panels are excellent fire-resistant panels that suffice myriad applications. These panels are made from non-flammable glass fiber which prevents the spread of fire. Cactus Profiles Pvt Ltd started its operation in 2003 and engaged in manufacturing and trading.
Cactus Profiles Pvt Ltd is the top manufacturer of Glass Wool Panel. Our Glass wool panels are made with stable fibers bonded with thermal settings to prevent any hazards. These panels can be used for insulating large areas and for shock absorption & acoustic isolation. Also, panels are made with the best grade raw materials.
The Glass Wool Panels are safe to use as a roofing material, office furniture, entertainment places, heating ventilation, hospitals, etc. also panels can be used as a false ceiling for various industrial purposes or temporary warehouses & storerooms. Several properties like good thermal insulation & conductivity, minimum water absorption, and a high level of resistance to vapor diffusion.
Technical specification of Glass Wool Panels
Product Name
Glass Wool Sandwich Panels for walls and roofs
Advantage

Fireproofed

Light-weighted

Waterproofed

Fire resistant

Core Thickness
50mm to 120mm
K value (W / m² °K)
0.72 ꘡ 0.61 ꘡ 0.46 ꘡  0.37 ꘡  0.28
R value (Btu / hr / ft² / ℉ )
8 ꘡ 10 ꘡ 13 ꘡ 16 ꘡ 20
Width Wall
950mm
Width Roof
1000mm
Fascia Options
PPGS / PPGL
Density
100 kg/m³
Thermal conductivity at 10 degree C
0.04 w / m³k
Compressive strength at 10 %
0.50985 kg per cm sq.
Bending strength
0.7647 kg per cm sq
Melting point
Greater than 1000 degrees C
Water Absorption
Less than 1%
Sound reduction (db)
28 to 30
Fire class
Non-combustible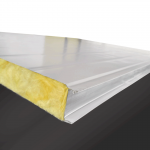 Why Choose Cactus Profiles Pvt Ltd?
Cactus Profiles manufacturers the finest prefabricate products, manufacturing products, and building components. We have carved a niche in the market for manufacturing high-quality products.
Our Glass Wool Panels are tested on various parameters before supplying to customers. The panels manufactured by us have the capability to withstand any bad weather conditions or heat resistance. We supply a wide range of Glass wool panels to our customers as per their requirements and needs.
Contact us today to understand the correct specifications for your unit and buy Glass Wool Panel for your building at a reasonable price.