Fire Rated Doors Manufacturers - Uttar Pradesh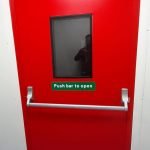 Cactus Profiles Pvt Ltd manufactures quality fire rated doors as per the tested and standard guidelines to suit the customer's needs. We produce the fire rated doors with the right selection of raw materials. All fire rated doors are tested, certified, and approved by our technical expert team. Our constructed doors meet all project specifications and certified products comply with the regulations of authorities.
Our fire rated doors are designed to meet the life safety requirements in various types of buildings and structures that compartmentalize to contain the spread of fire, these doors also complement existing passive fire fighting systems.
As one of the top fire rated doors manufacturers in Uttar Pradesh, we provide different variants of quality fire rated doors like exit doors and thermal insulated doors. The fire rated doors are a reliable and most important element for both residential and commercial use.
Why choose Cactus Profiles Pvt Ltd?
The reason for our popularity is the uniqueness and architectural perspective that we had in our designs. The fire rated doors that we design and manufacture meet all our customer specifications. We trust in the quality and more than any advertisement, we have been keenly focused and concentrated to improve our product quality. Our client satisfaction from different industries made us understand that we were successful in designing and manufacturing quality products. We would be really happy to help you with anything related to the product that we deliver. Our expert team will give you the needed insulations on the product and they will be happy to install it. As a top Fire Rated Doors Manufacturers In Uttar Pradesh, we are always ready to assist our customers with any of their requirements. Give us an opportunity to serve you. We promise to deliver you top quality products along with a reliable customer service.