Clean Room Doors Manufacturer In Chandigarh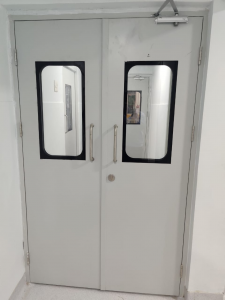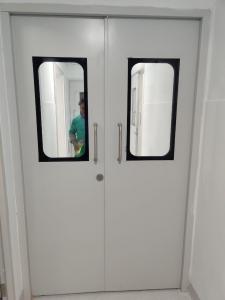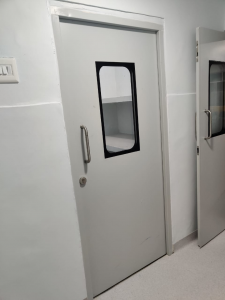 Cactus Profiles Pvt Ltd is one of the leading manufacturers and suppliers of cleanroom doors in Chandigarh. We manufacture cleanroom doors in two varieties: swing out and vertical sliding doors with (primer or both automatic and semi-automatic ways).
The main function of a clean room is to control the environment from various particles like dust, airborne microbes, and bacteria. Its main focus is to ensure cleanliness in the unit. Although clean rooms are used where manufacturing of electronic, pharmaceutical products, food processing, laboratories and medical outfit are undertaken.
The GMP cleanroom doors can also control variables like temperature and high moisture. The clean rooms can be classified into different situations of impurity depending on the number of particles flowing in the air.
To protect the clean rooms, cactus Profiles manufacture doors which is the most important aspect. The main function of doors depends on the timing of the door i.e., opening time and closing time.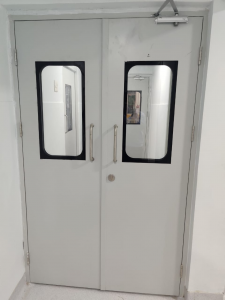 We manufacture and supply clean room doors that are available in Single - leaf and Double – leaf which used honeycomb paper and aluminium honeycomb paper as raw materials. These doors are designed in such a manner to meet the standards and specifications of clean rooms. Clean room doors are the favourite choice among pharmaceutical and food companies.
We a clean room doors suppliers in Chandigarh, provide innovative and specially designed doors as per customers' choice.
Thus, you can contact one of the most reliable and trusted clean room suppliers – Cactus Profiles Pvt Ltd.
We have a team of expert which include a tech-scientific team of manufacturer and engineers who customize the clean doors as per the clients' specification. So, what are you waiting for? Contact Cactus Profiles Pvt Ltd to get affordable and durable cleanroom doors for your unit.